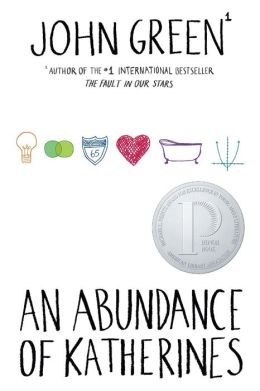 Genre:
Young adult literature, Fiction and (yes!) Mathematics
*No spoilers*
Protagonist Colin Singleton is(was) a prodigy. Nerdy, anti-social and awkward, he indulges in the unusual pleasure of anagramming. Anything from Britney Spears (Presbyterian) to sushi (uh, sis) he can anagram within a matter of seconds. He has learnt many languages (Russian, German, French, Greek, Latin, Spanish, Arabic and about to embark on Sanskrit) And the most amazing part of his current non-existent-prodigy-turning-into-genius life is the fact that he has dated 19 Katherines. Yes, 19.
"Colin, former child prodigy, has an unfortunate habit. He only dates girls with the name Katherine. Not Katie. Not Kat. Not Kathy. Definitely not Catherine. K-A-T-H-E-R-I-N-E. And they always break his heart."
Colin's best friend, Hassan Harbish, is Mr. Funny-pants. Fat, a very religious Muslim and the joker of the duo, he is Colin's, literal, better half.
This book begins with a description of how heartbroken Colin is after Katherine #19 breaks up with him. It is sad, as all breakups are, but then while you're reading about the poor guy missing his nineteenth Katherine, you start to wonder what his obsession with Katherines was. Read the book to find out, though, as he quietly spreads it throughout the whole book about his infatuation like you would spread jelly on a peanut-butter sandwich.
Hassan and Colin encounter Lindsey Lee Wells( the required bubbly girl as in all books) on a road trip to a small town (small being an understatement) of Gutshot, Tennessee. I won't reveal any further what happens, but, let me just warn you it is just quite predictable.
Understandably, not many people are fond of this book as they are of John Green's other works. Colin is supposedly the main reason. He is selfish, obsessed with his Katherinitic mess and moping over a breakup. Not a thing you'd like the protagonist to be.
For me, this book was as much about love as The Fault in Our Stars was about race-car fiction. I would only suggest you to read this book mainly due to Hassan's motherfugging humor and the
Theorem of Underlying Katherine Predictability.
All in all, a pretty good read. But not as good as any of John Green's other books.
Special mentions
:

Read it for

John Green's undeniable humor

, for the

young-adult-essence

and to know

the story behind the Katherines.